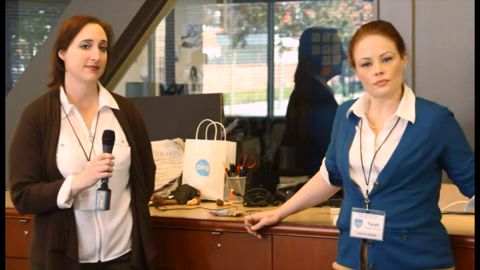 Hi! We're Tarah Wheeler Van Vlack and Liz Dahlstrom. As far as I know, these are the only training videos ever produced for people who want to know what it's like to be in tech, and we're giving them to you for free. We're giving you over eight hours and over 8GB of videos showing how you interview, work in programming jobs, negotiate salary, work with supervisors, handle whiteboarding, and much more. These videos cost us over $30,000 to produce, edit, and release. We believe strongly that everyone needs this information, and that the trust reposed in us by our backers on Kickstarter should be repaid. Thank you for believing in us, and thank you for helping underserved people in tech. Liz and I have always believed that mentorship and networking only succeeds in the presence of openness, friendliness, acceptance, and tolerance. We're releasing the digital download with a Creative Commons license, so you can download this freely and distribute it noncommercially.
This series of videos trains people in technical interviews and what to expect out of a life in professional programming. Created out of a Kickstarter in 2012, Tarah Wheeler Van Vlack and Liz Dahlstrom are now releasing the videos under Creative Commons licensing to the public in fulfillment of their obligation to the public, and are thrilled to announce that the training provided to these people has launched a mentorship movement in tech!
The links are to the videos at YouTube.
01-Welcome
02-Skin-Deep
03-Interview-Paperwork-And-Prep
04-Corporate-Startup-And-Freelance-Career-Tracks – Guest speaker: Jon Callas, CTO, Silent Circle
05-Physical-Presence-And-Body-Language
06-Meet-Your-Interviewer – Guest speaker: Mike Reinhardt, lead developer from Microsoft Game Studios and engineer, Microsoft Exchange
07-Women-On-The-Job – Guest speaker: Lonnye Bower, SQL developer evangelist, Microsoft
08-Certifications-And-Skills – Guest speaker: Anne-Marie Marra, senior partner, SOMA Law Group
09-Powerlunching-And-Networking – Guest speaker, Shannon Anderson, senior vice president, NuWest Group Staffing Solutions
10-Public-Speaking
11-Recruiter-Round-Table
12-Closing
Released under Creative Commons CC BY-NC.txt
If you want to support this effort and help the cause of mentorship in tech, you  can DONATE and learn more at HackThePeople.org, ask questions at @tarah and @tanglisha, and support diversity in technology.